Professional development of teachers and teacher education pedagogy
Fred Korthagen's research has focused on a number of related areas:
1. The professional development of teachers. Well-known is the three-level model of teacher learning (Gestalt, schema, theory).
2. The pedagogy of teacher education. Fred Korthagen and his colleagues developed the realistic approach to teacher education, and they carried out several research studies on the effects of this approach, published in international journals.
3. The promotion of reflection in teacher education. The ALACT model for reflection is now in use in almost all teacher education programs in the Netherlands, and in many other places internationally. The ALACT model describes the process of reflection, and the so-called onion model the content levels of reflection.
4. The professional development of teacher educators and the education of teacher educators
Already in the early 1990's Fred Korthagen and his colleagues developed an educational program for the development of teacher educators. Teaching teachers ('second order teaching') requires from educators many additional qualities compared with teaching in school ('first order teaching').
Keynote speech at the University of Oslo
The search for the Holy Grail: How teacher education can make a difference.
Keynote lecture by Fred Korthagen at the Bringing Teacher Education Forward Conference at the University of Oslo, 2016.
Publications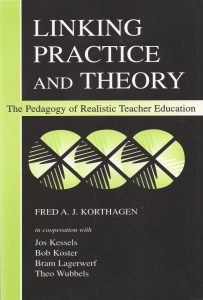 Fred Korthagen's internationally renowned work on teacher education Linking practice and theory (2001) has been published in five languages.
---
Key articles
1. On the professional development of teachers: Download pdf
2. On the pedagogy of teacher education: Download pdf
3. On the promotion of reflection in teacher education: Download pdf
on the ALACT model: Download pdf
on the onion model - 1: Download pdf
on the onion model - 2: Download pdf
4. On the professional development of teacher educators and the education of teacher educators: Download pdf